This tab contains a list of all links (their filtering according to various parameters), the possibility of creating new links and their editing or deletion.

What is an link?
The link indicates the logical and physical link between the POPs and the devices in them and thus helps to show the real structure of the network.
In practice, it can be UTP cable, optical fibre, wireless link and other existing and virtual types. The link has its direction, where the primary side determines the direction to the Internet and the secondary side the opposite direction (further to the network). The arrow in the graphic display of the link then shows the direction to the Internet.
The link has its colour, style and line thickness. It is thus possible to show different types of links (wireless, metallic, optical, etc.).
In order for the link to work as a replacement for Nagios, it is necessary that a defined device is defined on both sides of the link. In principle, this is a mandatory field and it will not be possible to mark the link as active without setting the device on both sides.
What is currently banned?
Create multiple links between the same POPs and the same devices
Create circular dependencies
Filtering links
You can filter according to several parameters:
Link type – what type of link it is – according to the colour, type and thickness of the line. Managing and adding new types is possible in (Hardware -> Settings -> Link types).
Devices – which devices are connected.
Link completeness – if there is a link between the devices on one side and not on the other, this link is not complete . The complete link has a defined device on both sides or there is no device on either side (connected POPs only).
POP – which POP (POPs) the link is created with.
Link status – whether the link is active (both sides of the link are devices and the link is set to active) or inactive (devices are missing or the link is deactivated).
Fulltext – search in all fields according to the text entered.
Adding new link
Via form
You can add a new link at the top of the form above the filters using the button – Add new link (

).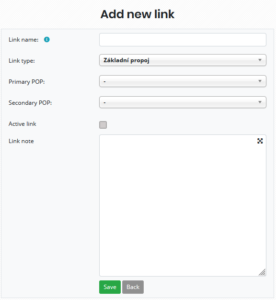 You can set the link type (graphical representation – type, color and line thickness) in (Hardware -> Settings -> Link types).
Name, primary and secondary POP are required. If the name of the connection is not filled in, it will be created automatically in the form – Link # [LINK_ID].
It is also necessary to select the device to be able to activate the link (Active link). If you also enter an interface, this setting will be used to read operations later.
You can also add your own note to the link.
To save the connection, press the button Save (

).
Via map
You can also easily add links via a map (Overview tab).
Working with links
Individual links in the list can be edited or deleted.
| Icon | Name | Function |
| --- | --- | --- |
| | Edit | Editing link |
| | Delete | Deleting link |