Setting up services on MikroTiks (MikroTik Services)
We are introducing another useful feature from a range of tools designed for MikroTik routers: Setting up services on MikroTiks.
This feature is available in Hardware / Routers / Router status / Routers as soon as you filter only Mikrotik routers.
If you are fully authorised, you can start setting up the selected services in MikroTik. Make sure to check the settings of your authorisation in Settings / Administrators / Administrators!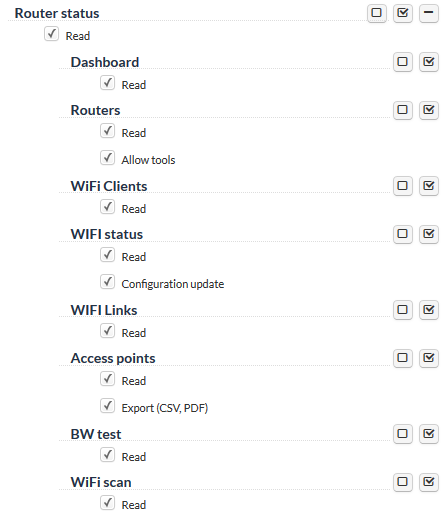 Select individual routers by ticking the checkboxes on the left.
Select Change service settings in the bottom menu and confirm.
Subsequently, you can set up multiple services for selected routers and restrictive rules for them to increase the security of these devices. When specifying IP addresses, the rule of comma-separated address applies.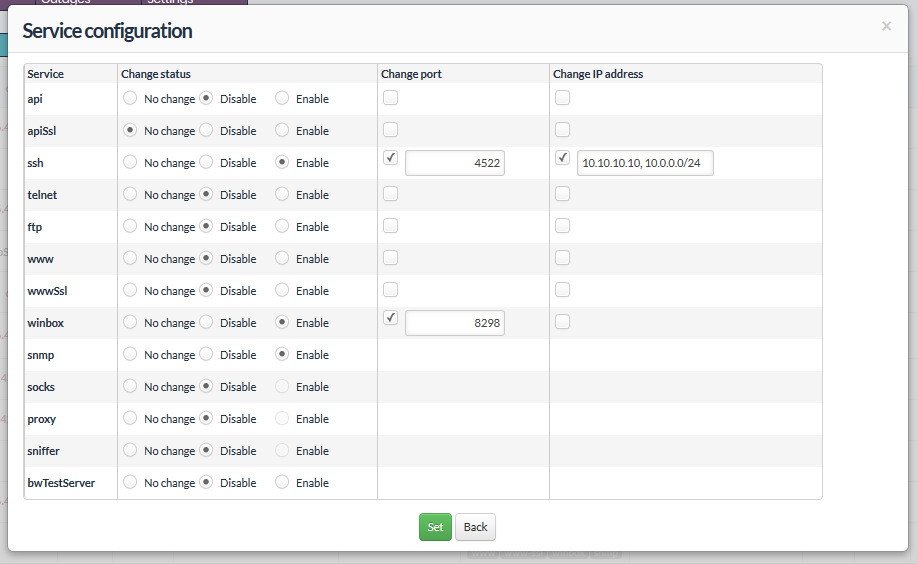 As usual, you are notified of the need to run a script from the ISPadmin console with root privileges.

The information on the action planned is indicated by a clock icon in the Update status column

If you need to cancel the changes caused before running the script from the console, you can click the clock icon and confirm the dialog box to cancel the action planned on a particular router.

You can also cancel the actions planned by ticking the selected routers and selecting Cancel planned actions.
To start a planned action from the console, use /usr/local/script/ispadmin/bin/updateMikrotikSW.pl

This is what the result should look like in MikroTik (we have only changed the telnet service):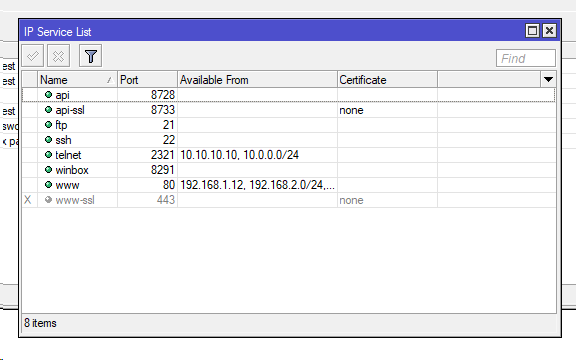 When you place a mouse over the lines in the Update status column, you see the result after applying the changes:

CAUTION! You better double check what service you are changing, and which addresses you allow access from! Once you have prevented ISPadmin from access, you can only change it by logging in manually and editing the service, for example, through Winbox. Bear in mind that basic services must be available for ISPadmin (ssh, apissl, snmp).
The result is displayed after the service information has been read after a standard 5-minute period. It appears in both the Services column and the Services and other information in Hardware / Routers / Router status / Dashboard.
Remember that a good and thorough security of these services throughout the network is a prerequisite for a reliable network. You can prevent hacking attacks on your devices.